Welcome to Finch Row Press!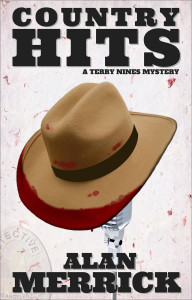 Our first book, Country Hits by Alan Merrick, is now available on Amazon in either e-book or print format. A free sample is also available for download.
Can a man really be murdered with a cowboy hat?
For LAPD Detective Terry Nines, the answer seems to be yes. Country music singers are being killed in bizarre ways — four in the past six months. Can Nines and Maxwell stop a methodical killer before another country artist is taken? Get ready to enter a strange world of music, violence, egos, and trademark props. Country Hits is an exciting cocktail of one part music and two parts murder — sprinkled with bad behavior and a healthy pinch of salt.
Alan's second book in the Terry Nines Mysteries series, Maple's Murder, will be released this winter. A top L.A. chef is found dead, stabbed to death in his restaurant. Now it's up to Nines and Maxwell to find out why Stuart Maple was killed in his kitchen – and why a small ramekin of freshly ground meat sits on a table above the body.